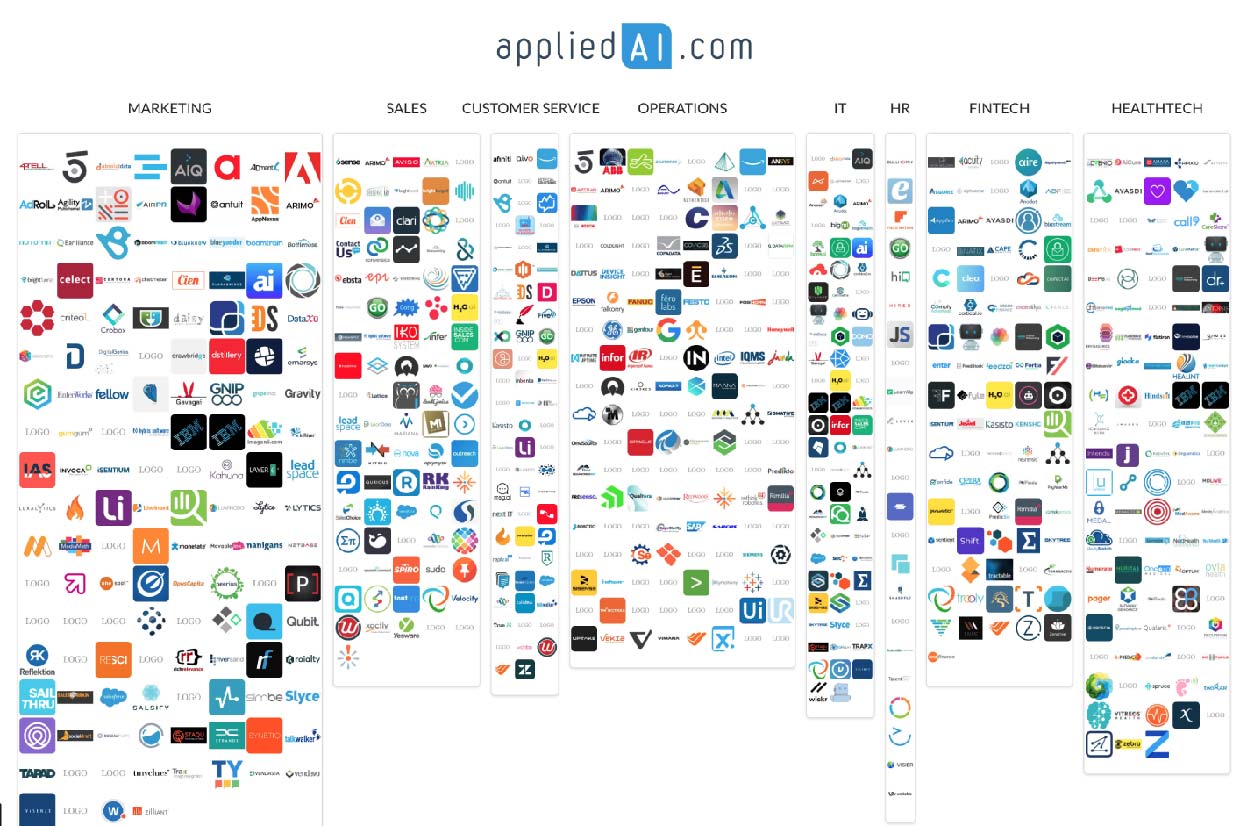 Scroll to bottom for full version
Happy to release the first version of our monthly Enterprise AI list.
We will release monthly, adding more companies and more information on companies to describe this complex landscape in more detail. To hear about the latest version before everyone else, please subscribe:
As the platform for companies to discover AI vendors, our aim is to make AI vendor landscape as understandable as possible. This list includes all B2B AI vendors categorized according to the corporate function they serve. We currently have 650 categorized.
There are good categorizations of AI companies in specific domains like chatbots or autonomous vehicles however when it comes to categorizing all AI companies, it is more difficult to come up with a good framework. After developing mind-numbingly complex frameworks using on our team's 2 decades of consulting experience, we decided to have a simple start:
We are organizing companies across the enterprise functions: Marketing, Sales, Customer Service, Operations, IT, HR
In healthcare and fintech, AI companies tend to be focused on a specific industry, either healthcare or fintech. The functions that these companies serve also tend to be industry specific functions like research or trading. So we categorized fintech and healthcare vendors separately from vendors offering services in a specific function.
I am sure Industry 4.0 folks are going to be a bit angry that we don't list that separately. We cover Industry 4.0 companies under Operations function.
The most popular corporate function in terms of AI vendors is Marketing. Here's the number of vendors by function:
| | |
| --- | --- |
| Marketing | 145 |
| Sales | 86 |
| Customer Service | 75 |
| Operations | 139 |
| IT | 79 |
| HR | 30 |
In terms of industries, we currently have 88 fintech and 107 healthcare vendors.
Finally, this version of graphic is only our approximation of the B2B AI companies and is surely not perfect and omits important players (our apologies). It is intended to stir discussion and encourage more companies to register and submit their data. We promote AI companies in market maps like this one and recommend them to other companies that request to get shortlists of vendors from us.